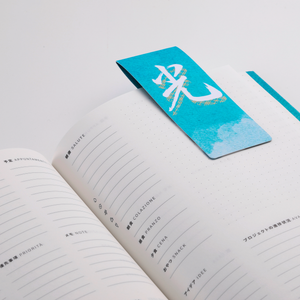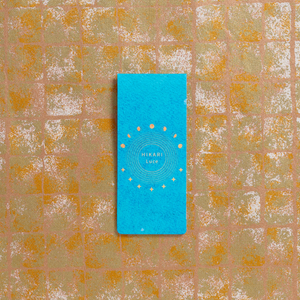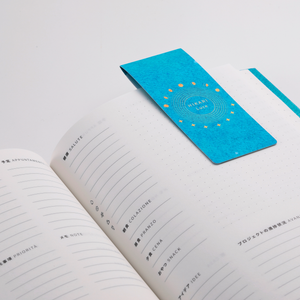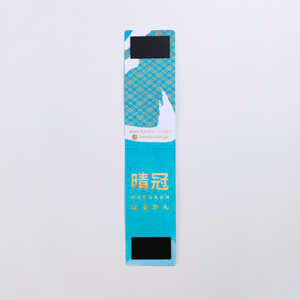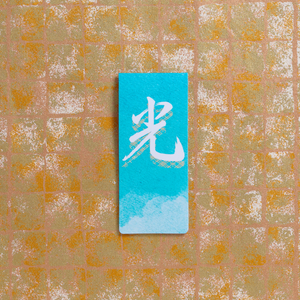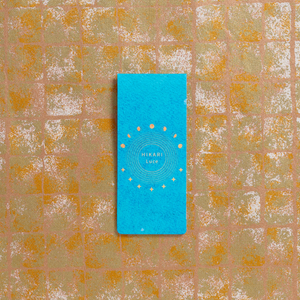 HIKARI bookmark
Magnetic bookmark with original calligraphy and design.
Format: 45 x 210 mm open.
This bookmark is meant to be used with the AKARUI MIRAI (明るい未来, a bright future) planner, making it the second piece of the SHO (書, calligraphy) collection. AKARUI MIRAI has been our mantra since we started working on the HARUKAN project. A bright future isn't easy, but we chose to believe that it's possible.
Haruko has been learning calligraphy since she was nine, and it plays a crucial part in her art. It's such a rush to get the stroke right. Once in a while she gets the whole calligraphy beautifully done in one go, as it happened for Hikari (光, light). Hikari looks simple, but because of that it requires a perfect balance of its elements.
Stefania replicated the AKARUI MIRAI design, because HIKARI and AKARUI MIRAI are a pair. A bright sky showing what we chase, and the traditional HISHI (菱)
pattern, which stands for prosperity and freedom from diseases and natural disasters. The name comes from the aquatic plant Hishi, known for growing very fast.
We hope these objects make you feel the power and energy of the sun and of the celestial bodies found in the Bright Future graphic on the back. We see that same power in nature, which in every situation and even under repeated attacks always stubbornly seeks a way to survive.

Free shipping for purchases over 100€.