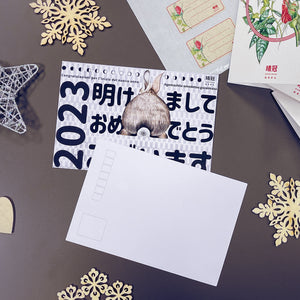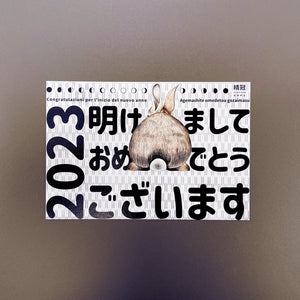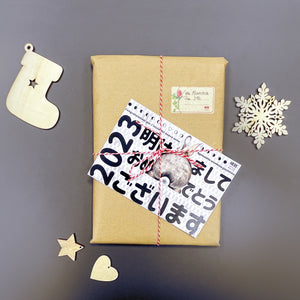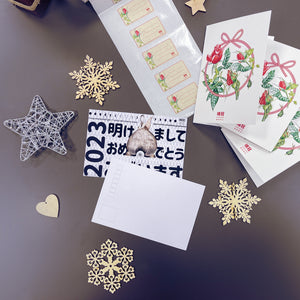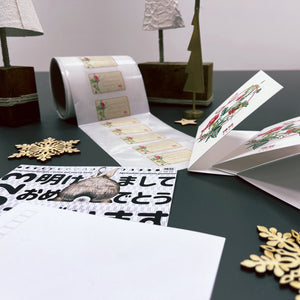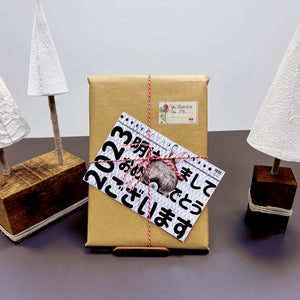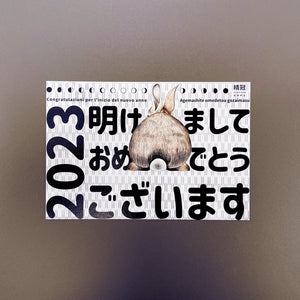 New Year's greeting card
Happy 2023 greeting card in traditional Japanese format (148 x 100 mm) with postage-ready back that can simply be used to write a message. Original illustration and design.

The New Year greeting card is an all-Japanese tradition. In Japan, New Year is the most important holiday, and it is traditional to send a postcard to loved ones to congratulate them on "the beginning of the new year" (明けましておめでとうございます, Akemashite omedetou gozaimasu). 2023 will be the year of the Rabbit, which has therefore become the subject of Haruko's illustration that you find in this postcard. Her うさちゃん (usa-chan, bunny) is really cute, don't you think?

In Japanese mythology, a rabbit lives on the moon. To celebrate it, we chose to include the lunar phases in this card. By all intents and purposes it is a piece of the UNIVERSO collection, which in 2023 is dedicated to astrology, where the moon has a key role.

The background pattern is called Yagasuri (矢絣), which are bird feathers attached to the tips of arrows used for archery. Its meaning is good luck, like an arrow that once shot does not return and continues to advance. For this reason, arrow-shaped lucky charms are sold in Japanese temples on New Year's day.
Free shipping for purchases over 100€.